I had to be in Pasadena today so I figured I'd find a place for my breakfast fix. A quick google search on "best huevos rancheros pasadena" gave me a few suggestions and Tonny's came up a few times, it even showed up as a comment on this blog! (It's kinda cool and a bit funny when Chanfles! shows up in my searches, but I usually already know what I think. Or thought.) So with those endorsements, my game plan was set!
I prefer driving up Orange Grove rather than taking the freeway; people are less honky on the streets when you're trying to restart your car, and it's a tad more dangerous adding gasoline to the carburetor when cars are whizzing by at 65 mph. Plus you can cruise by the Rose Parade offices and throw your trash on their immaculate lawns, just for a bit of extra fun. It's big fancy homes and then suddenly you get to the Mexican part of Pasadena; you'll notice the restaurants and stores are just slightly different than those in "Old Town", where you find all the newest shops.
We promptly get our requisite chips and salsa. Though the salsa was fine, it had that familiar tomatoey pepper taste that I seem to find at many Mexican-American restaurants, a sort of Herdez style canned salsa but with just a bit of fresh ingredients to give it some life. I hope I'm wrong but I'm running into this flavor much too frequently.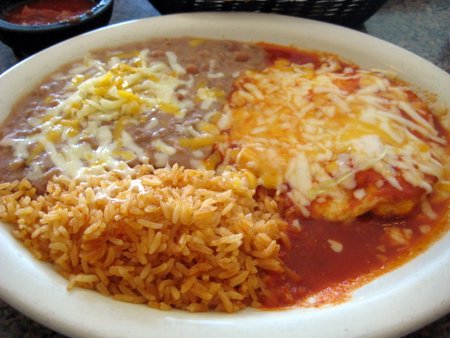 As I was thinking about the salsa I got my plate of HR's and it had that familiar Mex-American look to it as well. For a moment I thought they had given me a chile relleno plate but a quick check and yup, this is my breakfast. I was a bit disappointed with the excessive cheese, one of the reasons I first started documenting my HR experiences. And it didn't help that their salsa "ranchera" was basically the red sauce they probably use on every other dish, that slightly sweet concoction made mostly from the mild chile california. I don't mind this sauce, it has it's qualities. But it's such a common factor that it's almost like ketchup on potatoes. If you look at the picture long enough, you can imagine the taste. I like this kind of food, it's a known value. But I only go to Mex-American style places when I'm in the mood for that flavor. There really needs to be a way to distinguish between Mexican and Mex-American food, as they are two very different cuisines. Jack and Cheddar cheese are not a staple of Mexican food.
There was a lightly fried tortilla underneath but it disintegrated in the sauce. Y pa' cabarla de chingar, the eggs were overcooked as you can clearly see above. Boo! Some guy was getting a plate of chilaquiles (possibly with the same sauce) and I was wishing I had ordered that instead. I might go back to Tonny's but I don't think I'll have their $6 HR's again.
Tonny's Restaurant 626.797.0866
843 E Orange Grove Blvd
Pasadena, CA 91104