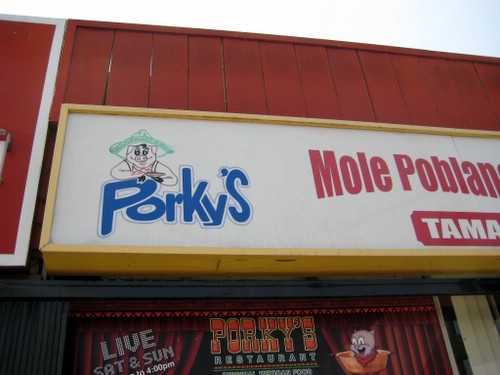 I don't like to follow an HR post with another HR post, it just kinda kills the imaginary flow I think this site might have, but whatever, que se le va hacer? Today I had a light list of tasks which had me over in East LA, but once I was done I was looking for a breakfast place. I was cruising around on my gentle beast looking for some place to pop out at me, to scream "try the HR's here!" but that wasn't to be. Instead, I saw a sign for a place called Porky's and your mild mannered vegetarian reporter had to see what the hell was going on at this restaurant. Porky's? Really? I am there!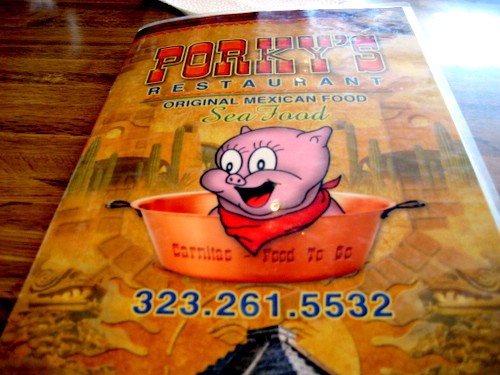 Cooking pigs is wrong, that's what I think. But cooking up famous cartoon character pigs? Ha, ha, I'm okay with that. When I used to work on Whittier many years ago, I used to avoid this place precisely for their name. It's odd how that crude name brought me back all these years later.
In no time I had a heaping basket of tasty chips and two salsas. They were both unique and tasty, but I mostly liked the red one in the forefront with its hot chile arbol flavor mixed in with some sort of sweetness. This was a great break from the weirdly similar tasting salsas I mentioned before.
Though this picture doesn't do it justice, I had a good spot in the restaurant in which to watch the flow of people that happened by this East LA eatery. Nobody is in this shot, but throughout this meal I saw the following:
A boy and his dad selling cookies in plastic containers.
A ruca that looked much older than her possible age, no doubt due to her life on the street and some sort of drug use, pushing along a shopping cart with her veterano looking boyfriend.
Some guy that looked tired of walking around with his pansa, thus the Lil' Rascal motorized vehicle that doubled as legs.
A heavily tattooed cholo with tats on his bald head waiting for his pink mini-skirt wearing lady to get out of the restroom.
A suburban looking Chicano couple that seemed a bit concerned about that head-tattoed cholo hanging around.
A paisa selling cds and dvds, including the latest release titled Wall-E.
Some homies ordering Micheladas before it was even noon.
Recent Immigrants wearing their Saturday Best to go to a restaurant. I'm sure you know what I mean.
Disheveled Heavy Metal fans that seemed like throwbacks from another era, possibly coming in for a bowl of Menudo.
People on the Eastside come in a range of types.
The dish of HR's looked as expected, I wasn't very fond of the excess jack cheese on top. The eggs were just a bit on the hard side, but they weren't overcooked. I was happily surprised to find they actually put a real fried tortilla underneath the eggs, not some "just dipped in oil" excuse, but an actual fried tortilla. How sad to find that a rarity.The sauce was mostly tomato based and despite the bell peppers, it lacked any chile hints. It was okay but there's lots of room for improvement. Nonetheless, I was enjoying this breakfast meal, just for the appearance of a proper tortilla underneath. The beans had the unfortunate taste of lard, but I guess I should have expected that from a place called Porky's. The rice was quite good.
The food was decent, the ambiance was exceptional!
Porky's 323.261.5532
4560 Whittier Blvd.
Los Angeles, CA 90022