I haven't had much luck finding decent Huevos Rancheros west of the LA river, but that's not for lack of trying. A friend told me this place wasn't very good, mostly blandish Mexican food that the studio people seem to think is awesomely authentic. But it gets great reviews, it can't be that bad, can it? Well I had a chance to check it out, let's see what all the fuss is about. Onwards!
The place was quite packed for a Friday at 2:30. They also have a wall cluttered with an odd assortment of souvenirs, many of them Mexican-ish but also a bull fight poster from Barcelona (pfft) and a picture of a Tabasco bottle (yuck). There's a salsa bar over by that left corner.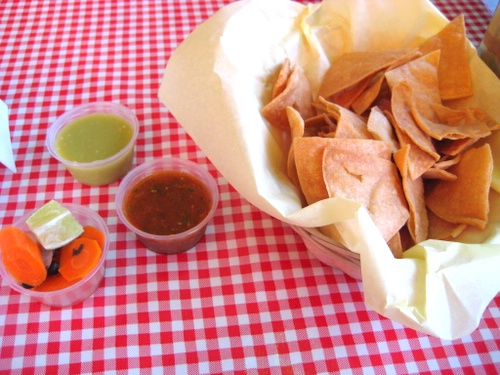 The chips, which cost an extra dollar if you want 'em, were warm and quite tasty, a perfect way to take off the hunger edge. The tomatillo/avocado salsa was kinda sweet, almost as if they added sugar to the mix. The red tomato salsa had hotness but lacked any body and real flavor. Still, not too bad, since I'll be having my dish soon. Or so I thought. My friend had the fideo soup (which was quite good) and was eating away, but after 10 minutes without my HR's it was time to get up and ask que pasa. "Que pasa?" Oh, we thought you wanted the soup first then the HR's, we'll get on it. About another 10 minutes later I get up to ask again "Que paso con los huevos?" Ya vienen. I guess somebody made a mistake somewhere and didn't place the order even if they tried to play it off as something else. It happens.
I waited an extra 20 minutes for this? What a visual let down. The eggs were way overcooked (that's a no, no!) and they weren't topped with a salsa ranchera, more like some pico de gallo they sauteed in a bit of oil, the onions were almost caramelized. What a shame. Oh yeah, they also didn't put any tortillas underneath the eggs! What a disaster.
They give you a side of "homemade" tortillas, which are okay but they taste like something you can make at home using a sack of Maseca instead of actual masa. They make their own tortillas and can't figure out the basic elements of a popular Mexican breakfast dish? WTF, are you all from South America or something? I tried to salvage my dish by placing one of them under the overcooked eggs and dumping some of that salsa roja on top. It certainly helped to abate my hunger, but my HR cravings were thoroughly disappointed. At $6.50 this was not a value dish nor was it a worthwhile splurge. Oddly, most of the reviews on Yelp and other sites note the budget prices and "authentic" flavors, neither of which I experienced when I was there. I suppose when you're used to the pricey and crappy food at El Coyote or Lucy's El Adobo this plain fare must seem like the real deal. Lesson learned: don't trust what you read online, even if that includes doubting my stupid reviews. A critical eye and your own preferences should be the foundation of your opinions. Cuz really, that's all that matters.
Maybe the rest of the menu is awesome (I have my doubts) but these bland and amateurish HR's are not worth the time, money, nor the waste of a good eating opportunity. Next!
Tere's Mexican Grill 323.468.9345
5870 Melrose Ave
Los Angeles, CA 90038