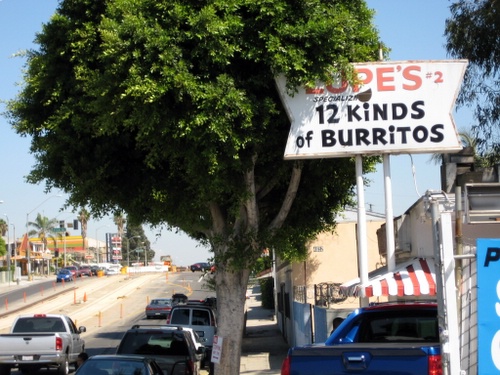 Back in 2007, when we tried to rectify the fake Eastside concept over by Silver Lake, people thought we were just being territorial and ridiculous. Now that utter bullshit has come to pass, I hope you can all appreciate our attempts to stand up to the powers that be and value our concerted resentment to being dismissed as a nothing part of the city. Even Eastside Latinos gave us shit for sounding the warning about this territorial makeover, cuz they were too slow to understand what was happening.
Where you at now mensos?
September 15, 2007 at 3:00 am in East Side
Yes, I harp on this Eastside thing, I'm not going to let it go. That beautifully coarse landscape East of the River is an expansive terrain that encompasses such a variety of stories and interpretations that it's absurd to accept the Westsider Cultural Empire knocking it out with a weak punch of irrelevance, arbitrarily deciding that Silverlake/Echo Park are the easternmost regions of the known LA universe. Just because you don't live here, just because you refuse to get out of your car here, that is not sufficient reason for you to decide that we do not exist. But anyways, I'm preaching to the nonconvertible.
For whatever it's worth, this next installment of ES 101 is going to focus on two Eastside eating establishments, and hopefully this post will shine a bit of light on why I love this geographical area so much. I know many of you just think the Eastside is simply where the Mexicans live, dumping it into a cerebral corner of cultural homogeneity, but the reality is a bit different; under the surface there is still a vibrant tug and pull that keeps the area interesting. For one, there is a major difference between Mexican food and Mexican-American/Chicano food, and our first stop at Lupe's is a shining example of Chicano eats!