If you live in Northeast LA, you probably know about El Huarache Azteca. It's been featured by Mr. Gold, had write ups in magazines and newspapers, and is regarded as a place for excellent huaraches. Their huarache sin carne is pretty much perfect and the torta vegetariana is great, especially with a large agua fresca. A few months ago I noticed a hand written sign on the door that mentioned Huevos Rancheros, but of course, I had already placed my order. Drats.  I figured I'd make it back some time to give them a try. And I did.
Now I kinda hate Huarache Azteca.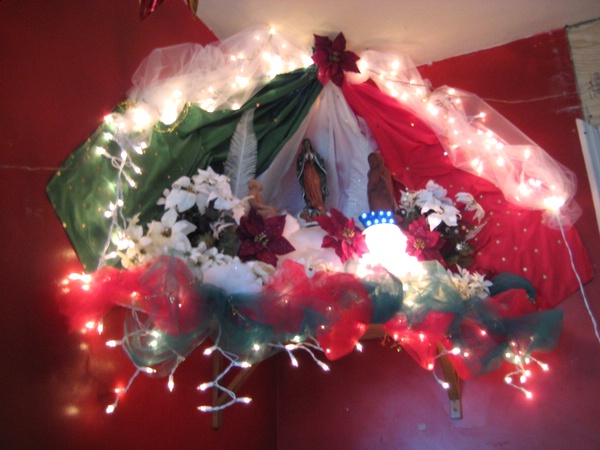 I went right at the start of the X-mas season, they had a nice and patriotic display for two Virgenes, but I think it's always there, at least now they had the lights on. This place is quite small with very tight seating, and it's almost always crowded. The food is at the appropriate price range for the neighborhood, I think my HR's were around 6 bucks, give or take. They also have a lil' salsa bar with some great salsas, including a super smoky red chile sauce that I use to drown my food. And the wait staff is always friendly, attentive, and fast.
So why do I kinda hate this place? For their almost perfect plate of HR's! It doesn't seem fair that they excel at this many options when most eateries can barely get one item on the menu right. For starters, they offer green or red sauce (I've yet to try the green though) which is a nice option. But it's red for me, all the way. And how can you go wrong with this spicy blend of tomatoes, chiles, y quien sabe que mas? This is a proper sauce through and through, none of that toning it down to accommodate for the mild palate. The eggs they use are fresh and perfectly cooked, to the estrellado standard. And all this goes on top of two perfectly fried tortillas -not just passed thru oil- with the crunchy texture that adds so much more to this plate. Most places will put two closely cooked eggs on top of one floppy oil dipped tortilla, but here we see two fried tortillas, one for each egg, like it's supposed to be done!
The first time I had this plate, I thought that maybe it was a fluke, that I was just really hungry and seeing things thru a certain perspective, so I waited before writing this post. I've gone back twice since and have not been disappointed. Here's a pic from visit 2. Notice that they also don't put any cheese on the HR's. Oh yeah! They do put some on the whole beans, which I guess I should mention are decent as well. I think the rice was okay too, but I kinda wasn't paying attention to the sides. Oh yeah, and that salad goes great with some of that smoky salsa I mentioned before.
The pics from my third visit came out cruddy, but it was yet again an exemplary dish.
Naming anything the "best" of anything is stupid, something to expect from those weeklies that try to elevate their personal opinions into something beyond the subjective.  There is no such thing as the "Best Huevos Rancheros", that doesn't exist and never will. Anyone that tells you otherwise is lying. Food is meant to be enjoyed in a variety of ways, under a revolving set of circumstances, within fluctuating time frames, with different people, for different reasons, and maybe even some taste buds that change by the day. For my purposes, the HR's from Huarache Azteca have consistently satisfied my need for a dose of comfort food on a Saturday morning, since they're made in just the way I expect them to be made, according to my own subjective criteria. For whatever that's worth.
I'm still on the hunt for quality examples of the HR's but it's good to know there's a reliable source for a great breakfast nearby. And it's even better that the place caters to the tastes of Mexicans and the budgets of working people. Moneyed gourmands will find their way here too, but they'll have to squeeze in to those packed tables just like the rest of us.
El Huarache Azteca 323.478.9572
5225 York Blvd
Los Angeles, CA 90042
in Highland Park