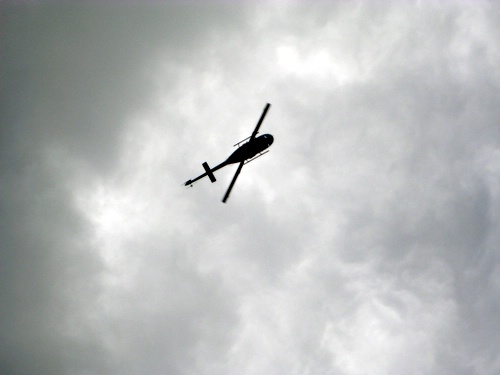 So it's a Friday, your plane doesn't leave til tomorrow, and you are stuck hanging around Lincoln Heights. The travel books say nothing about this  common situation, so what to do? Relax kiddies, I'll show you the way! Move over Loser Planet, there's a new travel guide in the big LH!
Let's assume you got woken up by one of those annoying police helicopters which have been buzzing incessantly lately, which is likely the case unless you paid extra for a Bed and Breakfast y Gallo. In any case, you're up, let's get exploring!
It's Friday during Cuaresma, might as well have some tortas de camaron. La Llamarada by 5 puntos had a good dish happening, still a mountain of nopales but they were properly cooked this time, and over some good fluffy tortitas and in a nice spicy sauce. Pretty tasty, I must say. I did have to deal with a table of tourists way over to the other side talking all loud about some dog, and how it's not growling anymore, or is, or something of the sort, which made it hard to enjoy the plate. But they left eventually, and normal volumed conversations resumed.
This dish ended up costing me $7.50, not including tip! Gulp. Damn, I guess I am a tourist!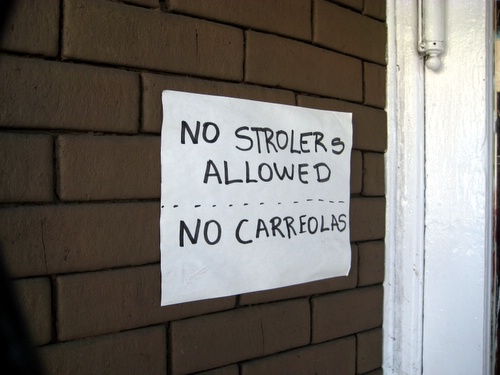 I was gonna check out the second hand stuff at Tony's Water Paradise next door but since I was just strolling, I figured they really didn't want me there. Fair enough.
I gave around 82 cents to a rambling, incoherent shirtless guy that was talking to himself while he sat in front of the Rite-Aid. I didn't take a pic of him though. I did take this pic of a woman on Broadway. She seemed to have her own agenda.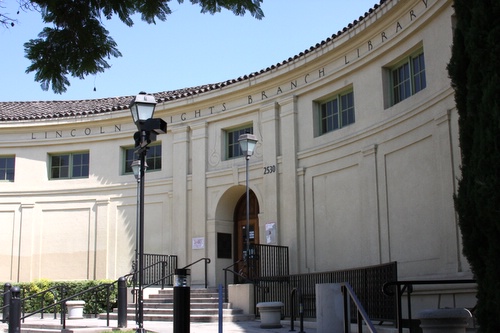 The LH library is usually a good spot to hit up, especially for the price.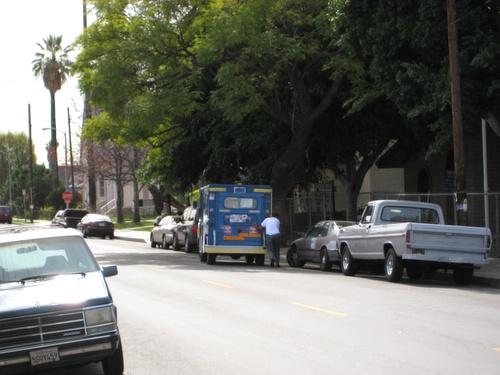 If you're lucky, you'll spot an ice cream truck in need of help on the streets of LH. Pushing a stalled vehicle can double as exercise and community service.  I'd had my share for the day. But no doubt a colorful story to share back in Kansas. Or Sinaloa.
Chinese flyer on a LH street pole. Oddly, I don't feel all bent out of shape at the sight of this. In fact, I love not knowing what's being said, as if I'm a stranger in a known land. And since this is a guide for LH tourists, they'll certainly like the feeling as well. As to the xenophobes and the 71,937 assholes that voted for Walter Moore, they'll probably be a little pissed at being just slightly inconvenienced from their normal habits of terrestrial and linguistic domination. Me da gusto que esten molestos, bola de culeros amargados.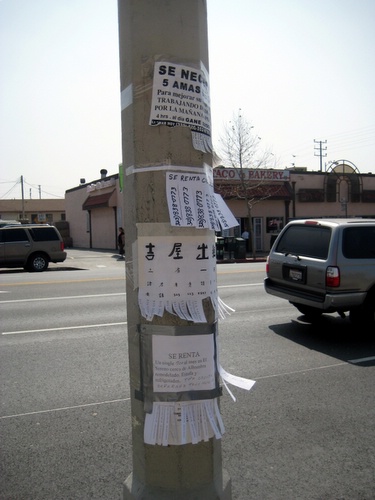 What?!? Four pole signs and none in English? Yay! Fuck your retarded monolingual culture.
A rare sight: the Le Blanc door on Broadway is open, they usually make you go thru the parking lot. This and the sign for the new hours seemed like a good enough reason to finally have a beer there. Our Drinkin' Heights gang has been there before, but we left cuz it was way too crowded on a Friday night.
I thought they had Guinness on tap, but they didn't even have it in a bottle: the bartender broke out a flashlight and was looking thru all the bar fridges for the Guinness bottle, with no luck. I take it that's not a normal request. I didn't want a bottled beer anyways, so I changed my order mid-search to a Bass on tap. $4. Decent enough.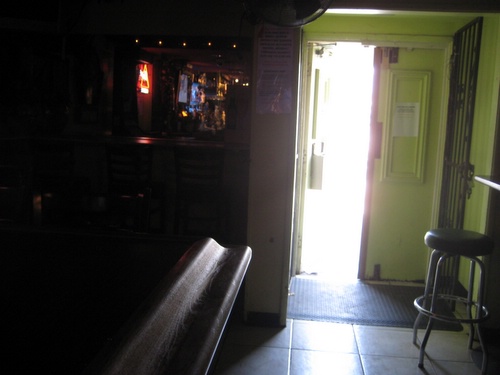 I don't understand the custom for dark bars, it's like yer trying to hide from something. If it wasn't for that half open door, I doubt I'd have bothered to have a drink. And it was only open cuz the day was warm!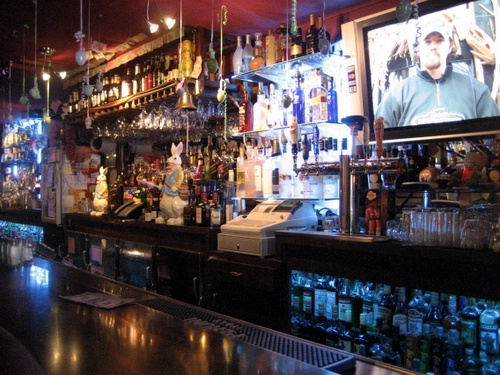 They had lots of dangling Easter eggs, plus a few rabbits, and a TV tuned to some weird hunting real estate properties channel. Like I really want to buy deer hunting property in Kentucky.
There's a wall of pictures from past events, and you can probably spend quite a bit of time looking thru all of them. If you really want to kill some time.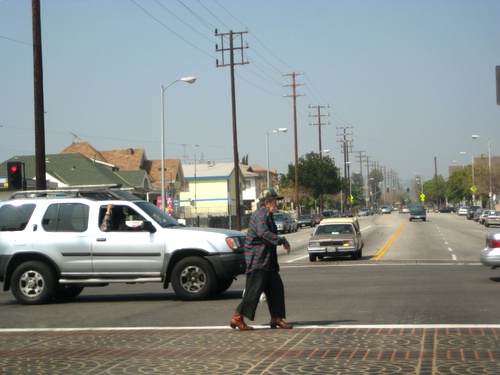 On the way out, I spot the Catman, whom I hadn't seen in some time. At least the rumors of his demise are proven to be untrue.
Plus he has new fancy boots! Catman on the prowl.
I took my carcancha for a much needed wash. I just try and get most of the dirt off, which costs around $2.50.  Most people, as you can see in the pic above, try to be all nice to their cars and trucks, adding waxes, polishes, and some other tender love. I don't care enough.
That's a way to spend a day in tourist friendly LH.