I was up in the Bay Area last week for the annual Anarchist Bookfair, always a fun event to see the latest stuff in print by those that hate the Church, State, and a few other ideologies. One of the best quotes of the weekend was when I was asked "Do you want to help kick out the Bolsheviks?', which one of my friends thought must be a joke. At the @ bookfair, it happened to be very true.
In any case, I was in the Mission District during a Cuaresma Friday, so I figured I'd see if they have tortas de camaron up North. Surely not all the Mexican food here is burrito catering to the single non-cooking class? I expected to not find any, so we went on a happy hour bar tour instead. But lo and behold I spot the sign above, surely a hopeful sign.
And on closer inspection, they do have Tortitas de camaron! Frisco ain't so backwards after all. Or so it seems. BTW, I am aware of the SF'ers dislike of the term Frisco. Very aware.
Oh shit, they're into Chivas here. I hate Chivas. Fuck it, they're kinda backwards up here, I'll give them a pass.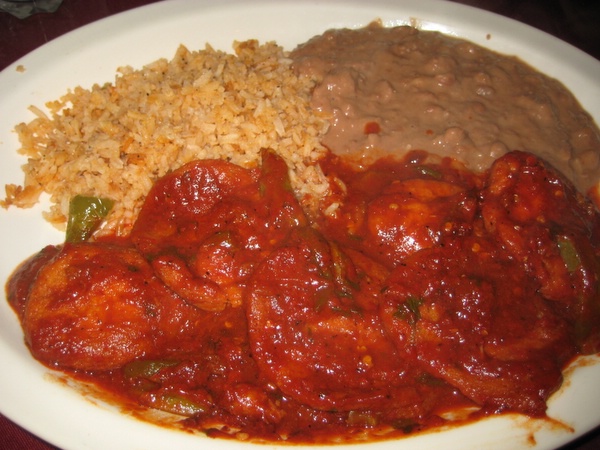 The form was there. Okay dish. Well, not that okay, but my expectations were low. Tortitas were all soft and thin. Nopales were only a suggestion. At least the sauce had some heat to it. The tortillas were fresh and handmade!
Would I recommend this dish? Only if you were in Frisco, hoping to find some Tortas de Camaron, and assumed this would be your only option.
Soon enough, after eating, other options would present themselves. Oh well.
There's even a Chava's place, but it was closed anyways. But that bigote means I'm going to have to come back some day.But all these restaurant names make me think someone is trying to mess with me.
Bonus Unrelated Photo!  Bonus Unrelated Photo!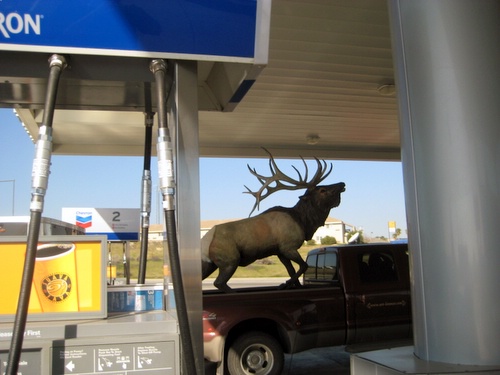 At a gas station, filling up on petrol, a fake moose cruises by.