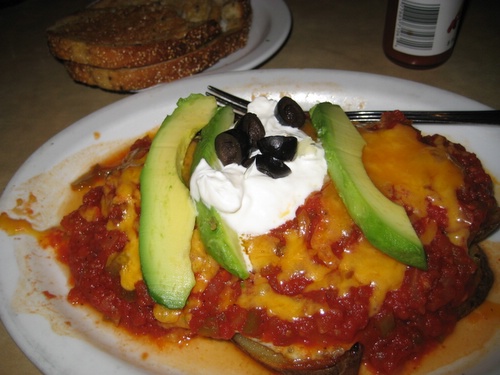 (same dish, but with flash!)
I like Shakers in South Pasadena, it's fine for when I feel like having some ethnic Anglo food. I usually go for soups, but this day they were both meat based. (Now why would any restaurant do that?) So I lost all my marbles and said fuck it, lets give these HR's a go! I was expecting a bit of the funny so I wasn't too shocked when I got my plate of eggs over sliced potatoes drenched in marinara sauce. I assume the cheese, sour cream, black olives, and avocado is supposed to Mexicanize it into HR's, but trust me, these are not HR's. Sure, it was a decent meal FOR WHAT IT WAS, but this has no right to be called Huevos Rancheros.
When does playing with a style cross over into new territory? If I made a pizza with one flour tortilla, some salsa roja, queso fresco, and rice and beans on top, should I still have the right to call it a pizza? Or should I just roll it up and call it a burro? Is this the breakfast equivalent of newbies to the city stealing the term Eastside? Nah, this dish isn't THAT bad.
Like I said, this plate is okay. It was supposed to have more sauce but the waitress accidentally spilled most of it on the table and cutlery as she was putting down my friends dish. But I don't think it would have made much of a difference cuz it was still just marinara sauce. Make sure to note the bread instead of tortillas detail. I'm down with toast, but not when it comes with HR's. She asked if I wanted hot sauce, I said okay.
"What kind?"
Uh, salsa?
"We have Tabasco and Tapatio."
I went with Tapatio, but I didn't bother using it.
I'm filing this under the joke dish category.
Shakers  626.799.9168
601 Fair Oaks
South Pasadena, CA 91030
www.shakersrestaurants.net