The are multiple reasons why the current social order should be abolished: from the refusal to submit to authoritarian rule, to a practical reasoning that environmental destruction is bad for self-preservation, maybe a deep visceral hatred of wage-slavery, even the idealistic liberal appeal to a sense of fairness and our common humanity, It's All good! But those weighty themes get enough ink, I prefer to focus on little things, on the tiny cracks that reveal a deeper meaning underneath. As Ghost Dog quotes "Matters of small concern should be treated with great seriousness." Thus I give you yet another reason for a flippant dismissal of the world as it is: Multiple Satellite Dishes!
In LH and other working class neighborhoods you'll often see homes and apartments with a dish mounted on the roof, wall, or even the front yard. Turns out satellite tv offers a cheaper service than the local coax cable company, so the popularity of these dishes is reasonable. What doesn't make any sense (assuming we even acquiesce the concept of paying for electromagnetic waves that are bombarding us anyways!) is the need for more than one dish per building; that is just plain technologically needless, wasteful, and a ringing indictment on the capitalist system. And its Stooopid, ay! Click ahead for more pics of the irrational!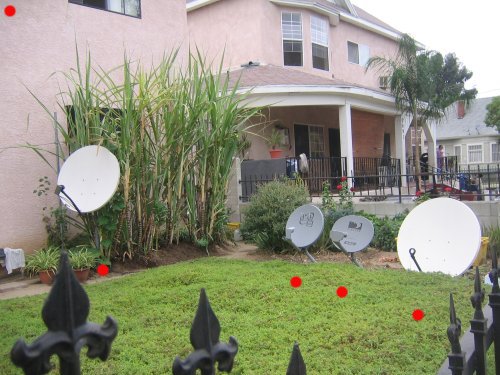 And here you were thinking that 3 Sat dishes on the front lawn were illogical, how about a 4th? Should I mention that there is a 5th up on the roof? I just did…
This place has 4 though they are symmetrically placed, somehow making them blend in. Still stooopid though.
Now this pic is just gratuitous, as my minimum was 3 dishes per building, this house only has 1 and the neighbors only have 1 as well. But when you think about it, there's no reason why these three homes in close proximity can't share the one dish, no? Besides, I really just wanted to have a reason to show the house with the clock. Now you know what time it is, fool!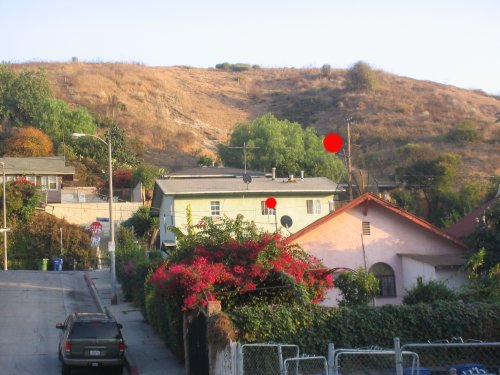 This one doesn't fit my criteria either, but I think 1 HUGE dish counts for at least 2, que no?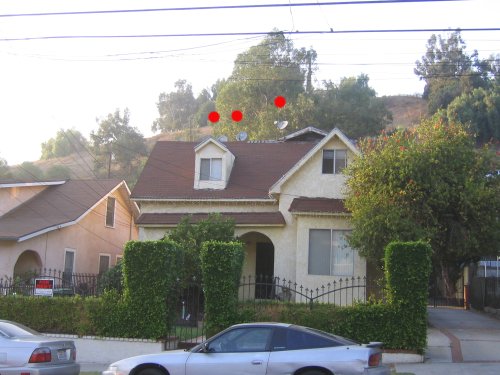 Back to good ol' 3 dish homes. If we were talking about food, I'd be all for it, but we ain't, so it's another thumbs down for the world that makes this happen.
This place has interesting asian-themed wrought iron and some nice plants, and 4 visible dishes.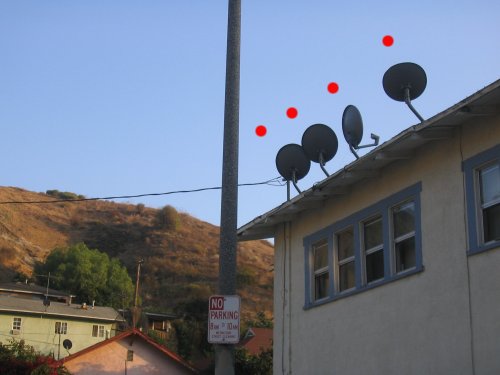 Another foursome, these are hanging out together at the corner. Sat Dish Gang!!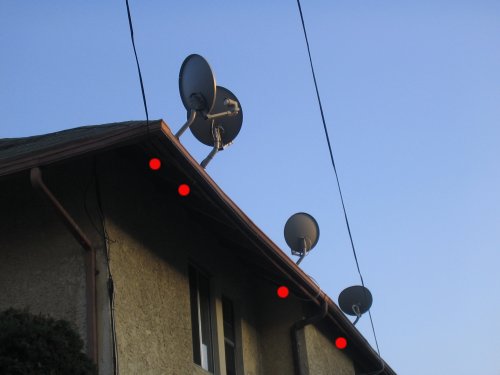 Nearby is a quartet that tends to channel sounds and images of questionable value, just like most other quartets.
3 red dots. That top one is real.
And finally, this apartment building takes the fucking pastel, here you can see 5 dishes…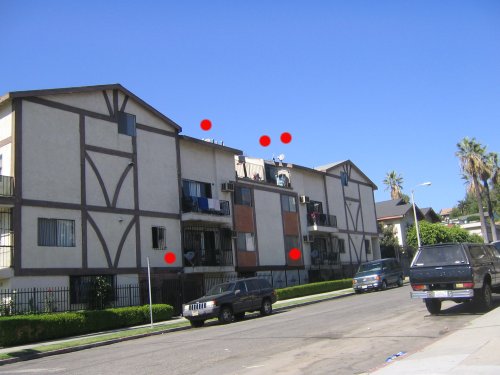 …and on the other side there's another 5! But wait, there's more! This building has at least 12 dishes that can be seen from the street. You got that? 12 fuckin'dishes! Wot a waste…
There you go, more ammo against those that try to argue that "this is the best possible system" that we can have. That's your best? Some weak-ass shit that creates technology that is unneccessarily complicated and wasteful to maintain? Eso es pero efaakin' estooooopid ayy!
Simon que yes.