Thanks to the fine work of the folks over at the Audubon Center at Debs Park, we learned that the Vaux Swifts were back in town, migrating South and roosting at an old chimney in Downtown. It is a sight unlike any other and something you should see as well. I took a few pictures but they pale to the actual experience. Click ahead for some pics and videos.
As the sun starts to set you see small dots filling the sky, circling the area where they will spend the night. That big one is a metal bird, not one of the swifts.
Soon the sky thickens with gliders. There were predatory birds milling about waiting for an easy dinner.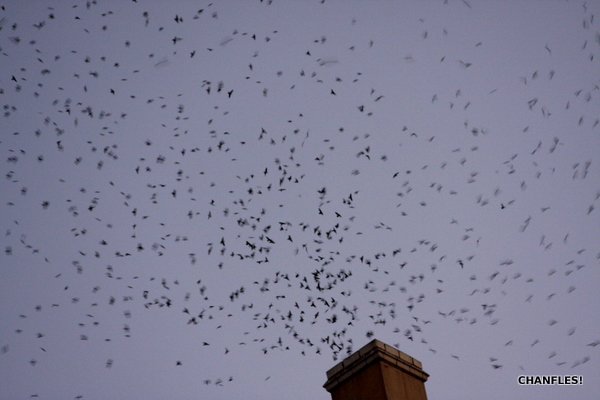 Eventually after more than a few test runs and circling about, some start diving into the chimney. No pushing!
Seems like they like to fly in together in groups.
Eventually all you see are dark clouds of swirling birds funnelling into the opening. I've seen the bats come out of the Carlsbad Cave, this is kinda like the reverse.
It starts getting dark but the birds keep coming. Now my camera just captures a blur of motion.
You can catch the bus to see nature put on a dance performance! Skip your dinner/movie date plans: pack some snacks and refreshments and come see the free show that this critic calls the "Smash Hit of the Season…Fun for the Whole Family!" You can quote me on that.
They'll be taking their trip South soon so see it before its over.
WHERE: Top floor of Joe's Auto Park 440 South Broadway, Downtown Los Angeles, 90013.
Parking is $3 after 4pm and all day Sat & Sun.
Get there around 6pm so you don't miss the opening trailers!
PS. Watch out for poop! I got hit on the arm.