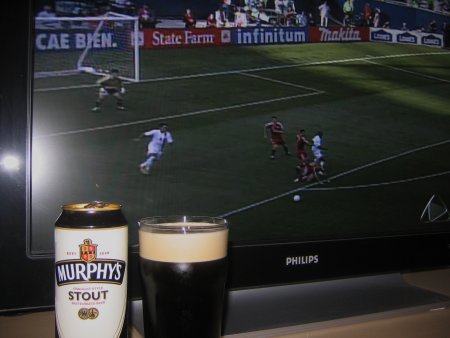 WTF are you doing looking at your computer? Get over to your tv, switch to channel 46 and watch the damn game! Canada vs. USA. 16th minute, 0-0, Mexico game to follow. Oh yeah, pour yourself a beer, a Murphy's Stout in my case.
For all you stuck at your boring jobs, I'll keep you updated as best I can. Is this live blogging? Fuck no! That shit is bogus.
—————————————————————————

Sunday at noon (pacific time) is the big match on channel 34. The USA team stopped being chumps a few years ago so it'll be a good game, and since Mexico is playing so poorly lately I give the advantage to the US team. See you then!
48: Time! Mexico wins and they go to the final against the US team, that's going to be good!
47: Yellow for a Guad. player, trash talking going on but I wonder in what language, French or Spanish?
44: Goalkeeper O. Sanchez gets a yellow for wasting time.
43: Omar Bravo tries a one touch kick at goal but it sails towards the clouds. Assuming there are clouds right now in Chicago.
42: 3 more minutes and it's going to be a USA vs Mexico final, oh joy!
39: Oh, I started checking out some other websites and wasn't paying attention. But now C. Blanco is going out to lots of applause. He didn't even do the ranita move.
31: No, I'm not going to open the door, go ahead and call backup, see if I care.
29:30: Pa' nada
29: Contra attaque!
25: On the replay, it sure was an amazing shot.
24: Whoa! Did you see that? Pavel Pardo makes an amazing goal from far away, YAY! I hear others in the neighborhood cheering!
21: It's peculiar that when the camera gets a close up shot of someone in the crowd it tends to be a young pretty girl, what a coincidence!
17: A kid in the crowd with an Argentina jersey is trying to keep the ball that he caught. That's why you bring a ball needle with you, to quickly deflate the ball and hide the evidence!
12: Yellow card for Torrado, well deserved. Free kick for Guadaloupe.
10: PO wants me to open the door, neh pollos. Now he wants to know what team i'm going for, get outta my window metiche!
8: Blanco loses a shoe, and complains again. Ooh, almost, good block of a header by the keeper!
4: Close pero nada. The new uniforms for Mexico are decent but I really prefer the older ones with the big aztec calendar on them, those were unique!
01: Game back on. Typing up stuff you see on screen is pretty stupid, let me tell you.
Halftime: Still 0-0, it's not going to end like this, somebody has to win. There's a small group of Guadaloupeans in the crowd, cool! Oh damn, someones at the door. BRB.
40: Lots of Mexicans in the stand. I need to go check out Chicago, maybe when they do the next Latino Punk Fest again.
36: Ooh, coulda been a good goal 6 vs 2, but the ball needs to get in the net.
35: A Guad. player puts his leg over the shoulder of a Mexican player, a bit high don't you think?
19: Oh yeah, a big bottle of homebrewed Plum Cider rounds out the drinks this evening, thanks Bob! This one is dry and balanced, not like the sugary stuff you can sometimes find from the commercial brewers.
16: Blanco dives and complains too much, he's turned into a lil' princess.
11: Crowd is obviously pro Mexico, they boo whenever the other team gets the ball, que cabrones.
8: Mexico is getting close to the first goal but the keeper is doing a stand up job.
00: A jugar!
Along with military ads, there's a commercial for "careers" with McDonalds. Oh brother.
Woot! Mexico match vs Guadeloupe is about to start!
Jesus Bracamontes and Pablo Ramirez are the commentators, I'd forgotten their names.
—————————————————————————————————-
USA wins and is in the final, but that didn't look right, the last goal seems like it should have counted. Assuming Mexico beats Guadeloupe (turns out to be a group of islands in the Caribbean) it's going to be a good final! Mexico has been playing shitty lately so nothing is guaranteed. Next game starts in an hour, guess I should start working on some serious posts. Back in a bit, stay tuned if you want but I don't know why you'd want to. Later homies.
49: goal by Canada is waved off, that sucks!
48: one more minute.
45: Looks like the USA is going to be able to manage a win, they're wasting time with the ball.
43: Red card to US player Bradley for taking down a player from behind. Unlike other sports, you can't add a new player into the game now, yer fucked!
38: Great, now the PO wants to come over cuz of some bullshit that the bracelet was "out of range", whatever.
35: 10 minutes to go, Canada can tie if they want.
I sure do miss the days when Jorge Ramos and Ricardo Mayorga used to broadcast games on 52, they were great at being informative while also making the game exciting.
31: Nice! Canada makes an excellent golazo! Golazo, golazo, golazo, asso, asso, asso, as the guy sez.
29: Ugh, a banner ad for the Marines. Every futbol match I watch nowadays has tons of ads for some legal gang with guns.
27: A Mexican fan in Chivas jersey waves sign "Saludos a Salina, KS". Mexicans are everywhere. HA, HA!
23: You may proceed with the goals. Come on Canada, give it a go. Surfer boy gets a yellow card, as does DeRosario.
Ah, better! This time a Firestone Double Barrel Ale, crisp and refreshing. All around decent beer though the Pale Ale is hoppier and tastier. Damn, I take shitty photos.
7: Darn, empty glass. Can you all hold the goals for a few minutes? Thanks!
5: How embarrassing! Landon Donavon chokes a big one! Open net, keeper down, and he misses the ball! Butter toes!
2: Second half is on! Offside fool, get back in line!
While we wait, here's a joke I knew as a kid about Chicago, the city where this game is taking place:
Pepito and his family are on a road trip heading to Chicago when all of a sudden Pepito says "Chicago! Chicago!" Mom sez "ya mero llegamos." A bit later Pepito again exclaims "Chicago, Chicago!" and the dad goes "calmate Pepito, ya mero llegamos." 10 minutes later as they are driving into the city Mom says "Pepito, ya llegamos a Chicago." To which Pepito replies "pero ya me Chicage!" Ja, ja, what a little shit! Oops, back to the game!
Half-time break: Might as well call and see what the hell my PO wants. And I better go look up where the country of Guadalupe is on the map, Mexico plays them next.
45: Landon Donavon to take kick, doesn't choke. 2-0 usa
43.30: Penalty for the USA, goal keeper knocks down Damarcus Beasly. Not sure if that was a good call.
43: Stop calling me people, can't you see I'm busy here?
40: Goal was by Frankie Hedjuk, whom used to be known as surfer boy, amongst those in the know.
39: USA goal, a nice on at that.
35: A Mexican fan has a sombrero even larger than the Sams Army top hat, ja, ja!
30: Kasey Keller, US goalkeeper is looking shaky, one almost got away. Does anyone else think the Sam's Army fan club dress like clowns?
28: USA Bocanegra (now that's a cool last name!) gets a yellow for a brutal takedown, shoulda been red.
23: Canada puts a mano on the ball, no call. Here's a link for more info to the Cup.
20th min: USA player Bornstein (?) gets a yellow card.