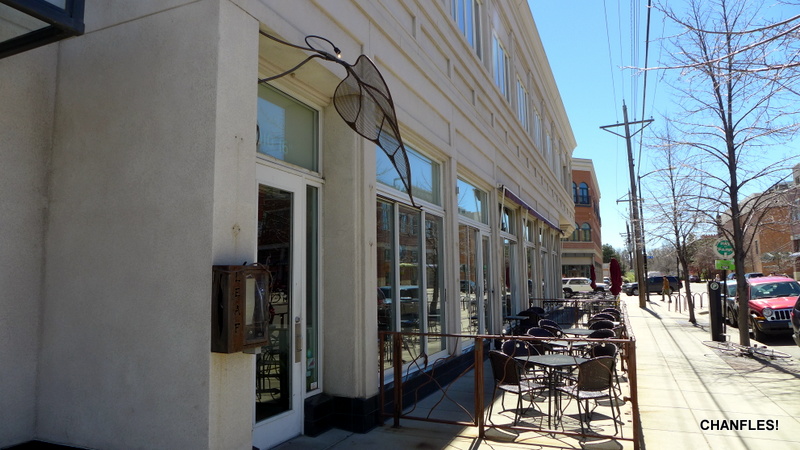 My plans for Colorado were craft beer, vegetarian biscuits and gravy, maybe some huevos rancheros IF I found a Mexican place I wanted to try. (I'm on vacation, I don't need the stress.) We came to Leaf for the biscuits but as luck would have it, that's only a weekend brunch option. Ugh. Stupid brunch is ruining eating.
Oh no, this veggie place has Huevos Rancheros! The description doesn't sound too terrible, other than the pico de gallo, maybe I should roll the dice? The last time I took that gamble at a veg place it was a disaster. Well, we're already sitting down amongst the fancy looking ladies that lunch, I don't want to make a scene by leaving so abruptly. I suddenly realize that I also forgot to wear my finest yoga gear today, the apparent required uniform. I hope nobody notices cuz I'm suddenly starting to feel like a piece of shit. They all seem busy asking about the gluten-free toast options ("how many pieces come in an order?") and the specific qualities of the butter so maybe I should just sit back, settle in, and hope for some good luck on this chance encounter with HR's. Bring it!
Hmm, looks "interesting" but not really a good first impression. No cheese, nice. Unnecessary avocado, fine, I can use the protein. You can see the pico de gallo but they also added a ranchero sauce that had good flavor, salt, and a surprising amount of heat. Wow. They asked how I wanted the eggs and they cooked them perfectly. The tortillas were not fried properly but it turns out they melt a bit of cheese in between two corn tortillas so your HR's sit on top of a light quesadilla. It actually works. Of course, your requisite white people black beans were needlessly nestled underneath as well, along with some Mex rice, but whatever. My lowered expectations were already met with the decent ranchero sauce. For $9.50, in a foreign land, amongst strange but familiar people that would fit in perfectly on LA's Westside or in the OC, plus hunger: I declare this dish good enough.
Under the circumstances.
Leaf  303.442.1485
2010 16th Street
Boulder, CO 80302
leafvegetarianrestaurant.com
Bonus! Bonus! Bonus!

I did end up finding a very good plate of biscuits and veg mushroom gravy in Denver.  With an extra added egg. (Huevos Biscuiteros?) What the fuck is wrong with Los Angeles that we still can't find this here? At least it means I have a good reason to visit biscuit country.
Denver Biscuit Co.  303.377.7900
3237 E. Colfax Ave
Denver, CO 80206
www.denbisco.com