November 17, 2007 at 10:21 pm in East Side
The ELAC Swap Meet was a very unique gathering, a bunch of buyers and sellers trying to eke out a living, all taking place on the parking lot of our local community college. After I did some follow-up posts on LA Eastside, we kept getting emails, for years, by people that wanted to sign up for a spot. It was pretty funny.
I've been slacking off on my Eastside 101 posts, but that doesn't mean I'm putting down my guard against the newbie usurpers. Over at Curbed LA they are running a "definitive poll" to determine the location of the Eastside and its dividing line, but their system is rigged: I suspect they purged the voter rolls. How else to explain the fact that the east-of-the-river option is in last place? Maybe the "it's a state of mind, ese" option (the current favorite) was used to confuse Eastsiders ala the Butterfly ballot in Florida. Because being from the Eastside is a state of mind, it's an overwhelming awareness that the rest of the city has no clue or interest in what happens over there in the Mexican quarters. And despite your ignorance of us, we are well aware of you. It reminds me of the Eastside punk scene; everyone knew of the shows happening elsewhere in the city, but nobody else seemed to know about the backyard gigs happening in our neighborhoods. Whether it's intentional or not, ignorance of the Eastside is nothing new. When you finally move back home, in a tacit acceptance that your fantasy career in the film industry isn't going to happen, the Eastside will still be here, ready to be ignored by the next crop of newbies.
Since Westsiders seem to take a special interest in shopping places, this post is dedicated to them. Come take a look at our fabulous ELAC Swap Meet!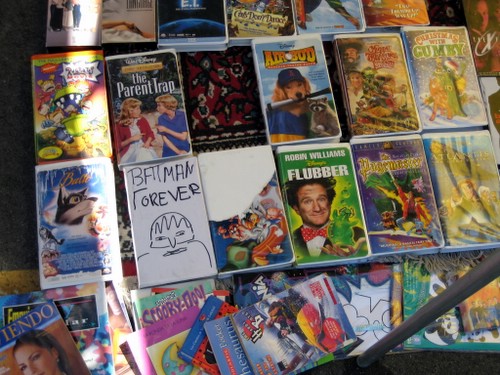 Located at East Los Angeles College, the weekly Sunday swap meet is one of the best around. It's sort of like The Grove, only more practical, affordable, and entertaining. (Assuming The Grove has any of those qualities.) Check it out, movies for sale. The seller didn't think much of the Batman Forever cover so they came up with a new version.
Potted plants, including the ever popular medicinal herb ruda.
Tables full of random crap. It's the American Dream.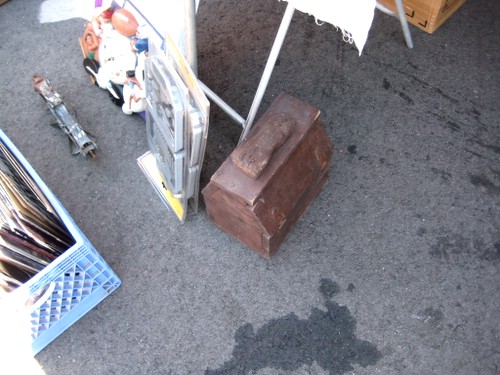 Business in a box: shoe shine kit for the budding entrepreneur.
Baby Cowboy.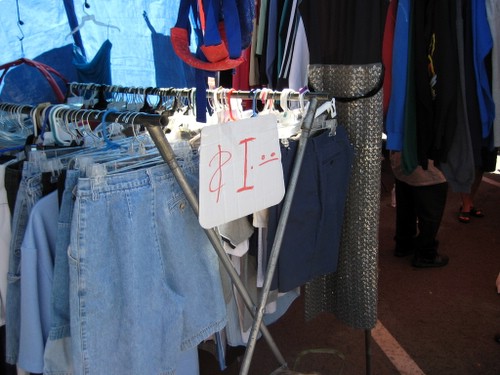 Rebel Eastsider sticks to Roman numerals and a non-conformist dollar sign.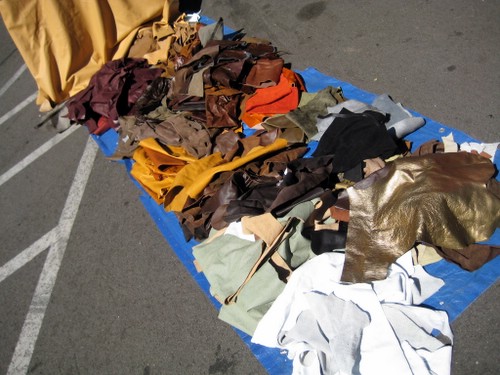 Piles of leather; make your own jacket!
"Rappin' Vampire Bopper". Umm, yeah, I took these pics before Halloween. Please excuse my tardiness. You have heard of being on Chicano time, right?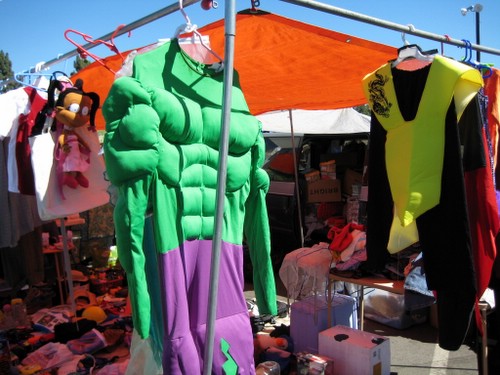 The price on this suit: "the lady from the stall will be back soon."
Creepy baking dolls. When I turned away, I'm quite sure I heard a tiny spoon stirring in a bowl of dough. Just saying.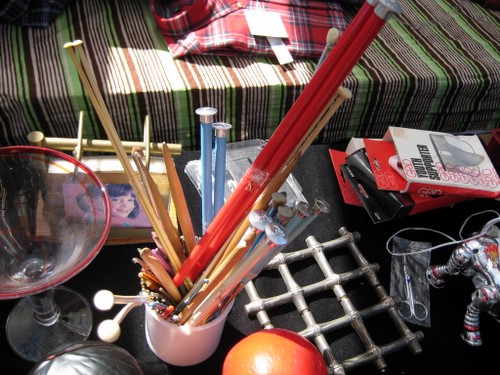 Crafty needles. Are we hip yet?
For the "green" consumer; a mode of transport that fits within your carbon footprint. Ready to supply your latest fads, the Eastside will escort you as you shop your way into a better environment!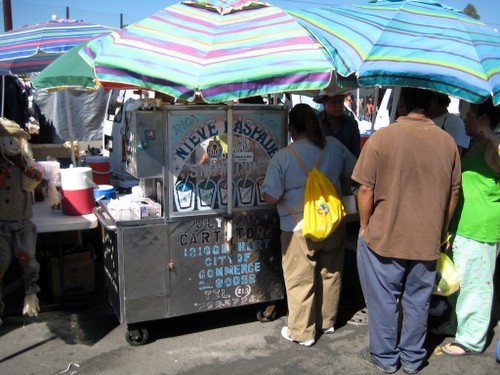 There was a long line for the raspados.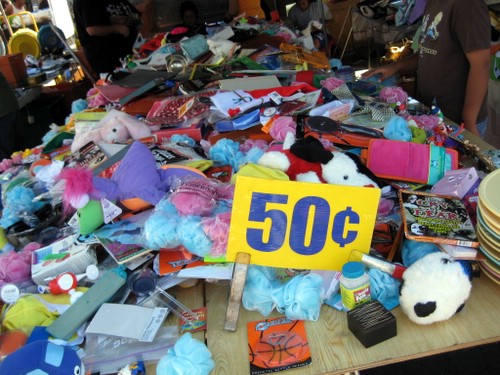 Finally, the table the fits within my shopping bracket. One stop X-mas shopping!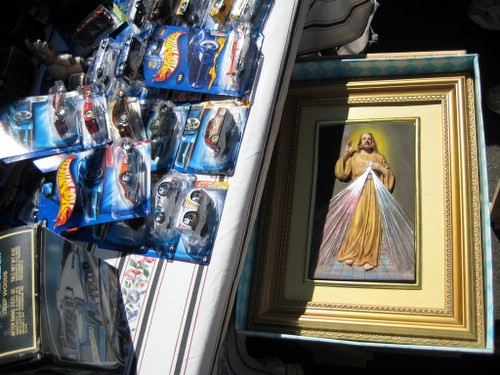 The Blessing of the Hot Wheels.
More Halloween costumes. I told you I was late.
My favorite stall, the one with all the weird little tools.
Delta Dental? Pfft, I'll grind that cavity out myself.
"A mi me pega mi mujer..pero como soy muy macho, me aguanto." Ha, ha. Translation: "My wife hits me..but since I'm very Macho, I can take it." Subverting gender role dynamics…err, sort of.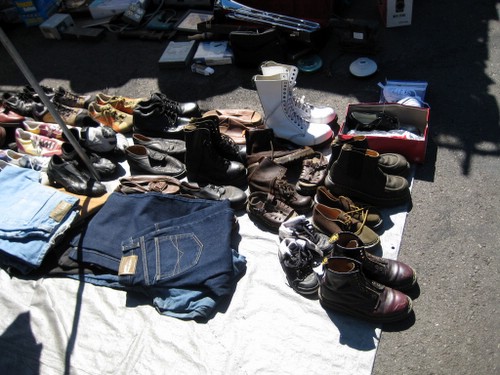 Boots and jeans. Bargain rate fashion.
Para la musica.
Almost as good as clothes by the pound.
Ah, the main reason I like the ELAC swapmeet: cheap tools.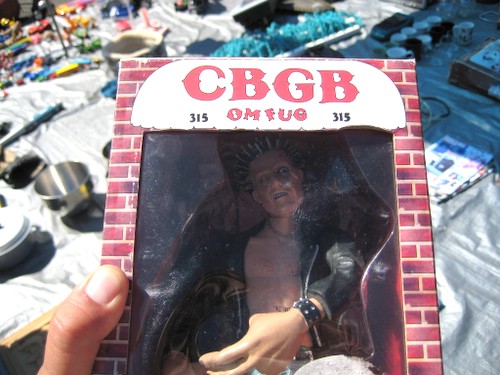 Punk in a box. If Punk is Dead, this would be a sure sign of it.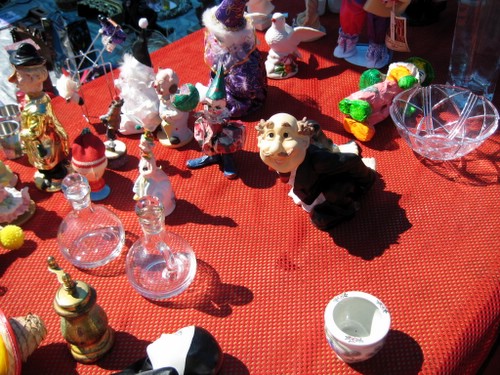 A French waiter to hold your wine bottle; Classy!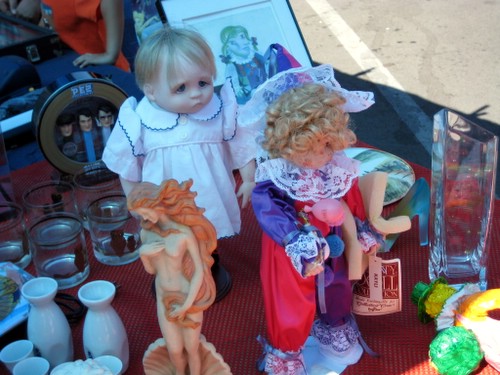 "Wassup Payasa? Why you keep ignoring me?"
Tortillas, al chingon!
No self-respecting Mexican or Chicano would own one of these "quesadilla makers." I bet this will never sell.
Big Ass Macetas.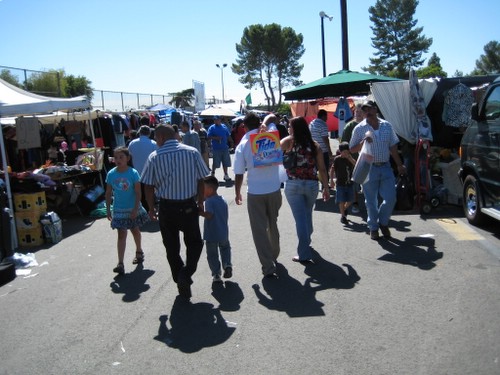 Just the essentials: shopping for detergent. How fucking sexy is that?
Not everything is affordable here though, these vintage cookies are priced way beyond my means. But for the gourmand, these might be the perfect gift.
A view of the shopping scene.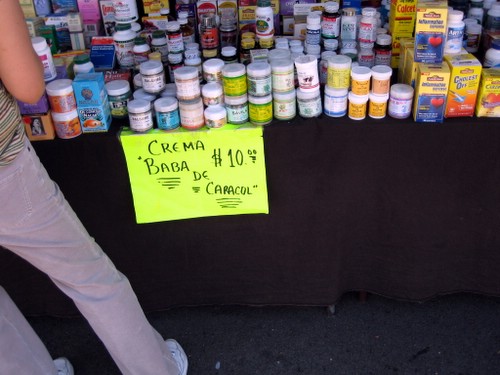 From the dirt to your face; snail mucus is the hottest new facial cream. Try finding that at Aveda. See, the Westside ain't got shit on the ELAC Swap Meet.
Favorite overheard quote: "You should have kicked my ass." One retired looking chola to another. The response? "Yeah, you deserve it."
PS. When I took these pics the swap meet was temporarily moved to one of the fields, it should be back to it's normal location now.