After a long, arduous night of endless veggie tacos and a bottomless cup of my friends homebrew on tap (until the kegs ran out, that is!) the only thing I could consider for breakfast the next day was a hot plate of Huevos Rancheros! It also helped that Nate (or one of his pals from the LUF) put the idea in my head, pointing out I hadn't done an HR post in some time and suggesting a place to try in Pasadena. I'm gonna follow up on that tip but for this post I headed somewhere much closer to home, just over the hill in beautiful El Sereno to the fancy looking place known simply as Hecho En Mexico. (BTW, I encourage everyone to forward HR suggestions, I can't find them all on my own!)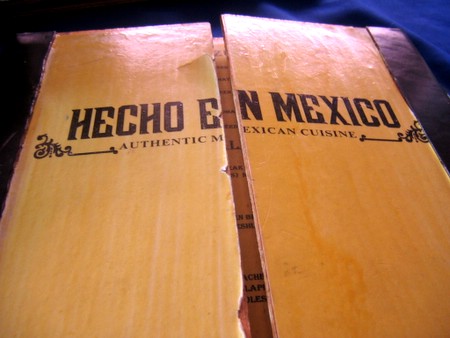 Why do I call it fancy? One reason: the large wooden menu. It's a marker that states they take the time to do something utterly needless but gives them a small measure of uniqueness, and isn't that what most Design is all about? They also have some big leather and wood chairs to sit in that are pretty to look at but annoying to get in and out of: Design! And for the big tables they use Costco plastic folding tables covered in a fancy mantel: Cheapo Design! Lucky for them, nobody will ever notice. I should mention the main eating area is outdoors in a covered patio which is a very nice and inviting place to eat, and an even better place to watch a World Cup match when Mexico is playing, and hopefully winning.
They quickly brought out the requisite chips and salsa: the chips are thinner than normal which makes it better as a salsa delivery vehicle. And they give you two options, one tomato based sorta pico de gallo, and the other a satisfyingly smoky red salsa. I'm down with the options.
Oh, that sure does look good. A nicely presented plate with a slice of orange and a parsley garnish that I haven't seen in awhile and which I associate with the Montebello Denny's, though it's probably in use in tons of places. How purty, now let's get it off my beans! Notice the potatoes? That was a really tasty touch, I'm thinking I prefer that as an HR accompaniment instead of rice. Y los huevos? They came perfectly cooked on top of two very lightly fried tortillas, meaning they just gave them a quick pass thru hot oil, which was acceptable (fried would be better) and doused in a spicy jalapeno and onion red sauce. For my purposes, this dish was the perfect combination of flavors by which to start the day. It seemed like most of the other tables were already starting their nights, if the many margaritas and cervezas serve as an indication. At only $4.99 it's far from being fancy priced, I've paid more for some terrible HR's, and these were a cut above the norm.
My friend had the chilaquiles and took a nice pic of the dish and table. Which reminds me, they give you freshly handmade tortillas de maiz (there's a station with a devoted tortilla maker right in the patio for all to see) and refill your tamarindo drink at no charge! Gathering these details together for this post makes me realize it's quite a value eating at Hecho en Mexico, but the place is worth a visit just for the quality of the food. I suggest you get cracking on that cruda!
Hecho En Mexico
4976 Huntington Drive South
El Sereno, CA 90032
323.226.0010