I find that most of the interesting Mexican food places to try in the LA County area tend to be outside the city limits, usually in places with more recent immigrants and in communities with a larger Mexican labor force.  As in many parts of the world, Capital is coming back to the inner core and displacing workers out to the edges. AKA the old suburbs. Within the core there has also been a push to make Mexican food more Foodie-ish with refined ingredients, higher expectations, fancier locations, and of course, higher prices. It's some weird dream of well-to-do Latinos to join into that world of Food as Recreational Eating rather than food as sustenance and nutrition. As if making your grandma's favorite dish a luxury item somehow validates your hard scrabble life of barely getting by. I don't get it. But it's a sad reality that working people are experiencing as old favorites get replaced by some new concept that "plays" with some traditional dish. First they gentrify your neighborhoods, then they gentrify your food. Sad!
Today we find ourselves scoping out the terrain of City of Industry since we are headed to the nearby Fry's for some random computer cable. Might as well take advantage of the vicinity. La Poblana seems promising, a ver que tal!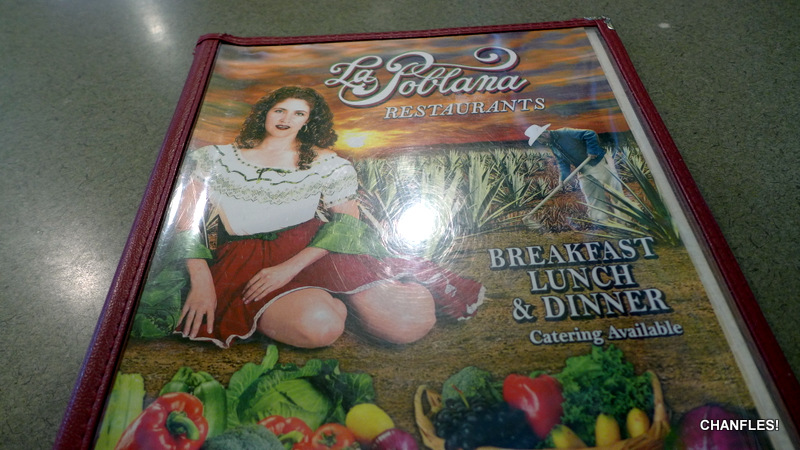 This Poblana looks a bit more of the People of Pallor persuasion, but she's got some massive knees to make you shut up about it.
Top of the list: $8 Huevos Rancheros. No description, but  I will take my chances. They serve breakfast all day so that's a plus.
They really outdid themselves with this salsa and chips spread: warm chips and 3 different salsas to choose from. All included in the price of admission. Nice.
They also have champurrado available, that delicious morning drink of maiz and chocolate that is especially comforting on a cold morning. It was perfect.
And finally, the HR's. On first glance they seemed decent enough. Not loaded with cheese, that's a good sign! The tortilla underneath was passed through hot oil but it wasn't crispy, I guess you can't have it all. The salsa ranchera was okay, mildly interesting with it's tomato base but very little in the way of chile, but good enough. I was mostly disappointed when I cut open an egg yolk and it was solidly overcooked. Boo! Hiss! Ruined! And then to my surprise, the other egg was properly cooked and was runny as it should be. Now that's a first for me. So the second half of the meal was much more enjoyable. The papas on the side were good as well, they kinda reminded me of Shakey's mojo potatoes, back when they used to make them well. But maybe that was me conjuring up some old memories. I think the beans were fine.
They also make tamales. I ordered a cheese and rajas version. It was decent.
Some angry looking Mexican dudes kept staring at me as I tried to enjoy my breakfast so that made things a bit uncomfortable, but I just ignored them. Kinda like I  do with White Folx that stare at me in restaurants, for some reason that I am still confused about. Do they think I played with Los Lobos that one time? Do they think maybe I'm that friend of a friend they kinda remember but not really? Sabra. But I wish they'd understand the concept of peripheral vision and that I can see their eyes on me without having to shift my pupils in their direction. Plus, staring is impolite and sometimes the trigger to the popular sentence "what the fuck you looking at" which leads to problems all around. Can you all tell a white friend about this issue before I have to say something? I would truly be grateful.
Oh yeah, all things considered, the breakfast was good. I'd be down for another stare down.
La Poblana Restaurant  626.336.3039
14264 Nelson Ave
Industry, CA 91746
lapoblanarestaurants.com