(A geographic riddle for you Northeast LA locals. First person to guess the spot wins an all expense paid trip to said location.)
The clouds are starting to move and I need to get going as well. It doesn't take long to get from the night cell to the daytime prison but the path is twisted. I pick up the pace, hoping to avoid an uncomfortable encounter with those that make this short distance their terrain.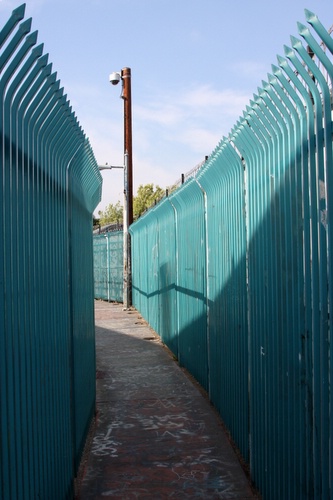 It's not a leisurely stroll, even when THEY keep watch via that electronic black eye. 'For My Protection' they claim. Yeah, sure it is. We all know better.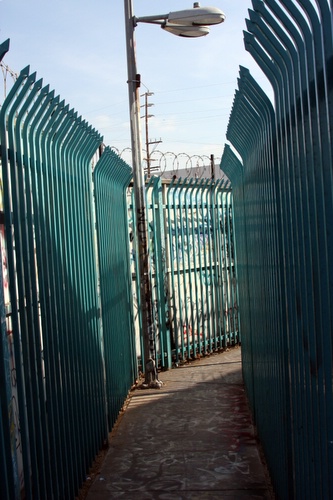 This is the dark corridor, shuffling the young from one pen to the next. On average, this Institute holds them for 3-4 years, though once they've done that time the probability is high that they will get transferred to yet another one, even with good behavior.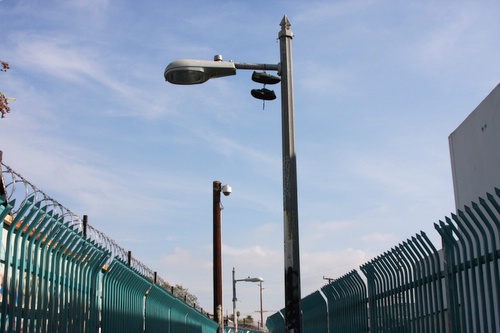 Some can't take the pressure and they hang up the shoes before they make the trek. RIP-PED.
The wire corridor is long.
Once you make it across, you are still fenced in by the reality of your daily enclosures: the sky is not the limit.  In a few hours, you'll be heading back across that same treacherous expanse.
Where am I? Submit your thoughts in the comment section.