This fairly new restaurant on Daly join the ranks of HR reviews kinda by accident. I'd gone in to have a bowl of soup but you know, things happen.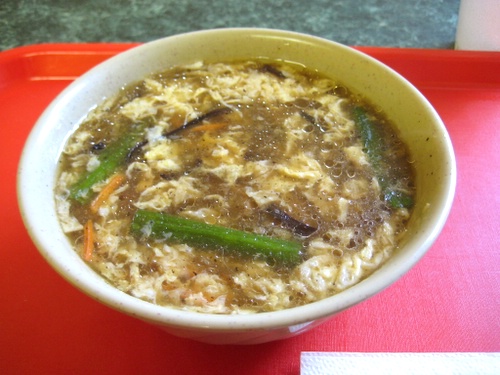 (Not on the current menu!)
For as long as I've lived in LH, this little hole in the wall place, despite going through various changes, has remained a Chinese food place, usually one of those where you pick 2 or 3 items from the steamers to go with the chow mein. Last year they changed it up, got rid of the pre-made food and you could order Hot and Sour soup (my favorite soup style!) which was decent despite the use of eggs. Of course, that place didn't last too long but at least they remodeled the place.
Now it's known as the oddly named Bonita Restaurant and until recently their limited menu was this one on the wall. Some very basic stuff (mostly meat based) along with a few breakfast options, mostly Mexican and American style foods.
They didn't have Huevos Rancheros, so the first time I had an American style omelet, complete with potatoes. But the cook explained that they are also focusing on different daily soups, including many veggie options. I'm a fan of soups, I'd be back.
I came back for my soup a few days ago only to find out they've now removed the wall menu and have real printed ones, and it's mostly Mexican fare including Huevos Rancheros. As you can see in the picture above, I couldn't miss out on the opportunity! The soup will have to wait.
First thing you'll notice is that it doesn't come your typical Mexican rice, instead they offer this white rice with garlic and veggie bits that was very nice and almost a meal onto itself, similar to the kind you tend to get at places like 7 Mares. Under the eggs was a perfectly fried thick tortilla (maybe on of those gourmet ones from El Dorado?) doused with a deep red, spicy sauce that no doubt uses either chipotle or chile arbol. There's also lots of fresh cilantro in the salsa ranchera mix for a clean spicy taste that I'm looking forward to trying again. The beans were better than average but I can't remember why. Overall, a very satisfying breakfast.
Most new restaurants are rarely consistent (at least not those within my preferred income bracket) so I'm crossing my fingers the next time I stop by I'll get something similar. For now, it's a great sign of good things to come.
Bonita Restaurant 323.342.0477
2423 Daly St. in Beautiful Lincoln Heights!