I like living in Lincoln Heights, it's a nice neighborhood. Despite all the efforts some have made to portray it as an "up and coming" area (whatever the fuck that means) it's still a mostly working class community, which is fine by me. I now work near a neighborhood that is considered "nice" (I guess it up and came!) but I think of it as mostly sedate, much more car based, with sidewalks that are practically empty during the day. Not my cup of tea coffee. At all.
One thing that I have noticed is that even though they still get their services from the same City of Los Angeles, they get a different class of service: take a look at how these trash cans are neatly lined up, even AFTER the trash pickup. And this is quite usual on a weekly basis. Now click ahead to see how they line up the trash cans over on this side of the river!
Hmm, not so neat over here.
These they didn't even bother pushing back towards the curb. Maybe it's just one or two rogue trash truck drivers but I suspect it's just that over here we lack the culture of complaint and entitlement that makes all the difference in situations like these.
I have a dream that one day the trash cans of the rich and the poor will be treated with the equal respect they both deserve. Until then, I'll keep fomenting the class war by pointing out some relevant observations:
*) Notice that the lawns in the 'nice' neighborhood are wastefully green while in Lincoln Heights they are environmentally-conscious brown. Going hardcore "Green" means your lawn goes brown!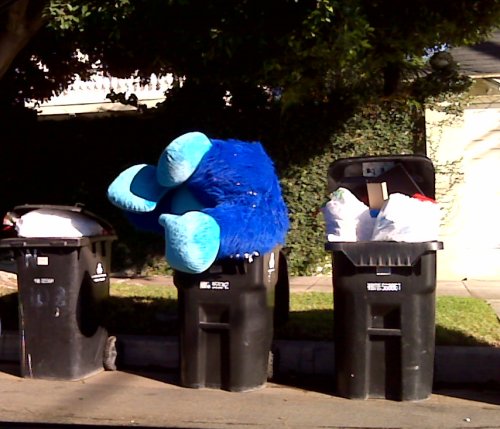 *) In the "nice" neighborhood they throw away lots and lots of stuff that would otherwise be sold, traded, or left on the curb in LH where we know full well that someone else could use it. This is a crappy cell phone pic of a giant blue stuffed animal unsuccessfully stuffed into a trash can. On many levels, this just seems way wrong: can't you find someone to give it to?  Shouldn't you have though about the implications before you put your dollar down at the ring toss? Amazingly, the trash crew must have picked it up because it wasn't there later in the day. In LH, they leave your trash along with a form letter telling you not to exceed the capacity of the can. So it goes.
Even though this image of a Joyful Blue Monster drowned in a tub of common household waste ranks up there with telling kids there's no Santa, it's still not as miserable as the trash can I didn't get a picture of in this same neighborhood: stuffed with inflated, helium filled balloons. Think about it. A trash can. Stuffed with helium-filled Balloons. Yearning to break free. Held down only by a partially closed plastic trash can lid. Seriously, I wish I managed to take a pic cuz it's almost impossible to believe, but give it a shot. A simple pin prick and the "trash" fits in the palm of your hand. That's when I realized these people are crazy.
The one thing the nice neighborhood has going for it is that I've yet to see any of them chain up their trash cans like this place in LH. I've had my trash can stolen before, no doubt by someone that didn't know you can just call a number to have a broken or missing one replaced. Which might also explain why I haven't seen any broken-but-duct-taped trash cans on the Westside either.
Still, all things considered, I think I'd rather deal with the occasional missing can.