A day off, a day when I can schedule in an unscheduled culinary adventure. This time we head over to HP and see what catches the eye. A torta place and two other Mexican restaurants were passed over for next time, and then I saw via mobile phone technology that this place was nearby. I've mentioned before that I don't look down on Northern Mexican food like some people do. Oddly enough, that link goes to an HR review of a restaurant with the same name! I don't think there is any relation though, just a lack of naming creativity.
I was hoping to do an HR review but it wasn't on the menu, thus the Huevos a la Mexicana, another of my regular morning breakfast choices. They do have some interesting options you don't see at most places but sadly its heavily meat based. Come on man, where's all the vegan Sinaloenses? One dish I dearly miss and haven't been able to find a suitable replacement is machaca, that popular and long lasting shredded dried beef. (Anyone know if there is such a thing? The chinese versions are all sweet.) When I was growing up I had a neighbor that would make his own by putting the beef slices out to dry on the tenderero on a sunny day. His kids were given the boring task of fanning the flies away. Yup, in good old Wyvernwood.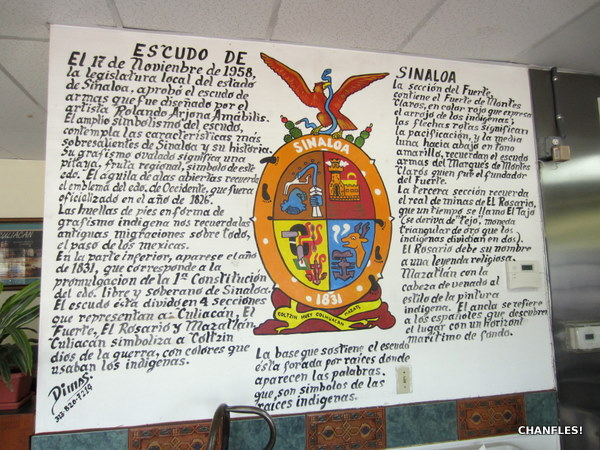 There was a bit of a line to order, but luckily they have this informational mural about the meaning of their escudo. You order up at the cashier, she gives you a number, you sit down and they bring the food, then you take your number back up to pay. It seemed quite efficient at keeping the crowd flowing.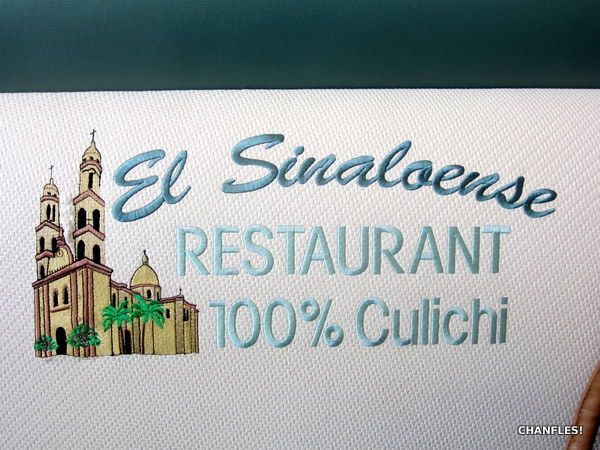 Check out the fancy emroidered booths! I was sitting in style, as always.
Gotta have Tapatio but they also offer Guacamaya, which as you might guess is from Sinaloa. But they provide their own fresh salsa so there was no need.
My simple but delicious breakfast. Onions, jalapeños, and tomatoes scrambled with eggs, done right. You would think everyone can do this properly but lots of places mess it up and either overcook the eggs or don't saute the veggies long enough and it stays all watery. Not here. The beans, which I think were of the peruano variety, were blended down just the way I like them and were tasty too! They also have a frijol puerco option on the menu which I imagine would be more like the frijoles rancheros I just linked. One of you meat eaters can go check it out and let me know.
Oh yeah, they throw in a nice little chunk of queso freso, I can't remember the last time I saw that in a restaurant even though its what many people do at home.
I also ordered a tamal de elote, one of my favorite types and not always seen around Los Angeles. Taste it when you get a chance, its slightly sweet from the fresh corn they use. This one was as good as any I've ever had. There used to be a man the setup a cart as you walked into El Mercadito a long time ago that had some of the best around, but that might just be some stupid nostalgia taste buds.
My friend had a plate of chilaquiles rojos that were absolutely brimming with flavor. Not even much sauce but somehow they absorbed all the necessary goodness and stayed nice and crunchy. This is what I'm getting next time.
A basket of freshly made hot tortillas. Excellent for scooping up the beans!
I went up to pay and I see they have these bags of "sweet bread" in a small display.
"Son esos coricos?"
Si.
"Give me some!" I haven't had coricos since I was a kid and my grandma used to make them. I don't think I have ever seen them available anywhere in Los Angeles. I did an internet search for a recipe a few years ago, y nada. Now it seems there are quite a few. If you don't know its a small slightly sweet cookie made of corn flour like Maseca, sugar, maybe a bit of canela, vanilla and rolled into a circle or other shapes. Yup, I plan to make a batch sometime soon. This just topped what was already an awesome breakfast experience.
As I sat down to enjoy my coricos yet another musico came in to serenade the crowd. I didn't get a pic but here's a bit of his singing.
Needless to say, I highly recommend you check this place out.
El Sinaloense  323.581.1532
7601 State St. (corner of Flower)
Huntington Park, CA 90255