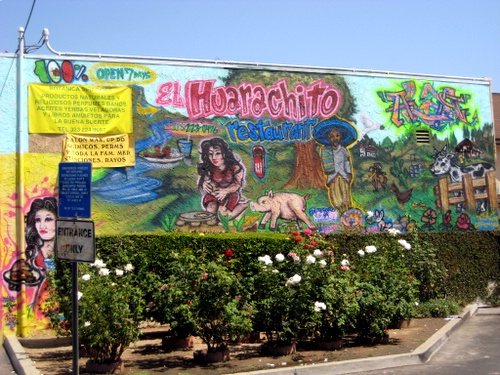 (Breathe in, breathe out. Composure.)
Over at LA Eastside, I mentioned that I'm not a huge fan of the works by ALZA but noted that his aesthetic basically defines the look of Northeast LA, and increasingly, some of the Eastside. Waltarrrrr of 90042 doesn't care much for his signs, and is fuming over the decidedly stupid "care" fix on some mural tagging. Considering that these types of aerosol murals and my preferred painted signs are considered illegal, I would still rather see this type of impromptu artwork instead of the blank walls the paperwork process of the city bureaucracy practically imposes.
But still, when one of my favorite places to eat gets ALZAfied, that's not easy to stomach.
I recently mentioned that this eatery had made it on to the "best of" list for Los Angeles Magazine, as the choice spot for a Mexican breakfast. One of the servers said that because of the mention they've had a spike in business. I sure hope this new sign doesn't put a damper on that inflow of customers. Above, the giant-fingered, soda drinking, torta eating lady.
That ALZA placa on the upper right hand side definitely needs some work. As does the pig nosed cow with horns. But the cholo looking Mexican dude, he's authentic.
There's probably more to say about this new addition to the Broadway landscape, but I'm just gonna bite my tongue now.