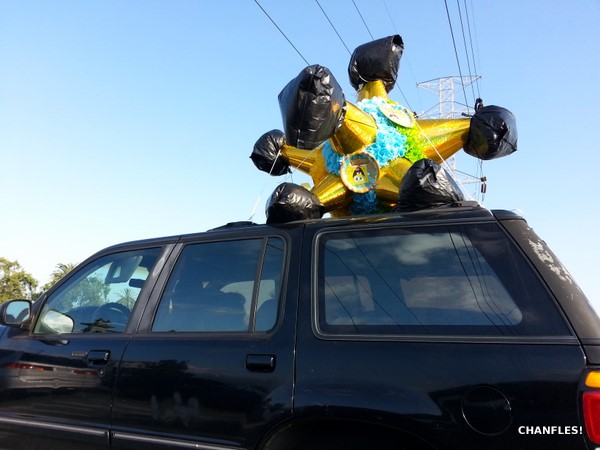 Who hasn't struggled with fitting a nice traditional-ish piñata into their vehicle? Probably lots of people. But for those of us that have, the top of the car wouldn't be an option because you don't want to destroy the fine paper tassels that make all the difference in these gigantic super star party accessories. Those cones double as fancy candy baskets, nobody wants one without the flair: otherwise its just a rolled up piece of carton. In yet another technological coup for the piñata industry, and a bit of help from the oil barons, we can now protect the paper flourish of an item that will shortly be pummelled to death by the use of plastic bags over the fancy tips. Plastic bags, what can't they do?
Next up: Piñata cones covered in reusable Trader Joe's bags.
Next Next up: Very Green Pre-recycled piñata parties where they just squirt some locally sourced honey into your mouth after you violently turn a compost with a bat. Yay.